Guy Rundle has a meandering piece of commentary at Crikey looking at the minority governments in the UK and Australia which closes with a note about the cancellations of Tony Blair's planned signing of his auto-biography at Waterstones in London - Faith, hope and clarity? Nah, it's faith no more.

Desperation and bad faith is the leitmotif of our final contestant, Tony Blair, who has just announced that he will be pulling out of his anticipated huge book signing at Waterstone's on Piccadilly, after a Dublin signing was turned into chaos by protesters.

The Waterstone's signing, with a page of security instructions, was to b a late fixture in the protest calendar; hundreds if not thousands would have turned up to bear witness against this delusional mass murderer one last time. By tonight, Blair must have realised that that was all it would be remembered for. There is already a proliferating campaign to reshelve his portentous work in the "crime" section. Blair's response to the gathering storm: he was cancelling his signing because of the possible presence of British National Party protesters.

Yah, right. Faith gone bad is the word.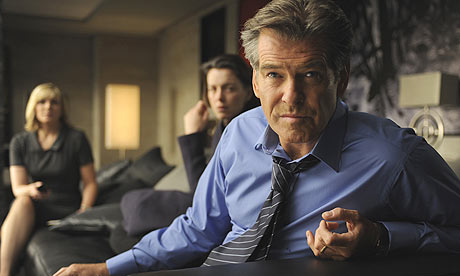 Tony Blair figured prominently in Roman Polanski's latest film, "The Ghost Writer", which I saw recently and thoroughly enjoyed.
The movie is based on a
novel by Robert Harris
, involves an unrepentant former British prime minister who took the UK into the war in Iraq.
It includes thinly disguised portraits of Cherie Blair and the late Robin Cook and floats an interesting theory as to why Blair was so unconditionally supportive of the neoconservative war in the middle east, mentioned glnacingly here in this
HuffPo review
:
The novel by Harris -- he was a friend of Blair who broke with him over the Iraq War -- is very good. As is the basic story, good enough for me to know the novel well and still enjoy the twists and turns of the film.

Blair, the only Labour Party leader in the history of Britain to win three national elections -- beginning with his Obama-like popular ascension to the office of prime minister in 1997 -- was well on his way to becoming the global statesman of the age before he fatefully threw in with with the seemingly far more conservative Bush/Cheney White House. Together, they invaded Iraq and pursued ruthless tactics in what was called the war on terror.

Which, in the end, left many wondering in astonishment and anger how Blair could have been such a down-the-line, uncritical partner in disastrous policies. And which left Blair himself, struggling to explain, saying that he would have invaded even had he known that the intelligence he'd had spun up to present an imminent threat of weapons of mass destruction was illusory, dodging angry crowds of protesters to testify before an official inquiry into the origins of the Iraq War in late January.

But before that, Blair, long the favorite to become the first president of the European Union, found himself last fall in the same city as Polanski. The director was in Zurich because he was in jail there following his shock arrest on a three decade-old sex charge. Blair was in Zurich to meet with Swiss financial and corporate power brokers to try to save his candidacy for the European presidency.

While Polanski, to the surprise of many, was able to complete the production of The Ghost Writer while incarcerated, Blair's time in Switzerland proved less successful. He delivered a speech to appeal to leaders of the continent's dominant center/right faction, arguing that government intervention into markets should not go too far. But leaders from the right still found him too liberal and leaders from the left could not forgive his tight alliance with Bush and Cheney on Iraq and the war on terror.

Harris's story (he co-wrote the screenplay with Polanski) provides an answer as to why Blair, Adam Lang in the thinly fictionalized version, threw in with Bush and Cheney. It may be outrageous balderdash, but it is quite logical.

And for many, as Blair undoubtedly knows, a logical explanation will do.

Which is why he, along with Polanski, is quite likely a ghost of what he'd been.
Cross posted from Peak Energy
.